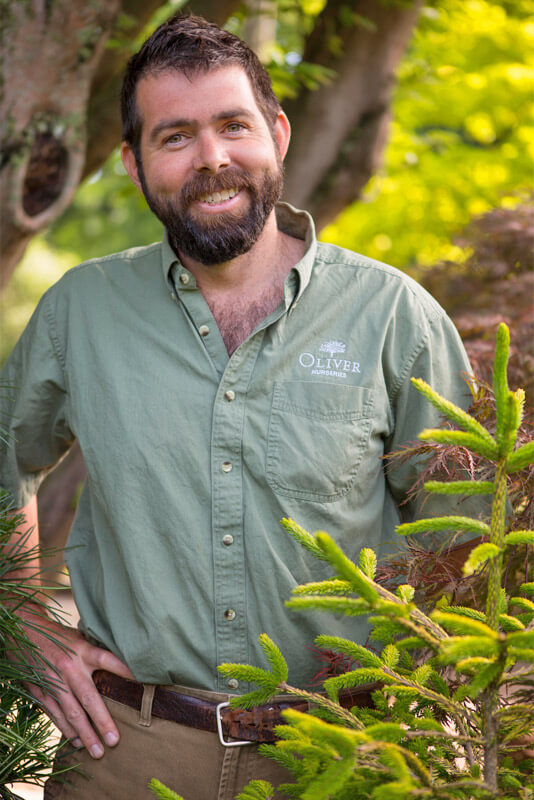 While helping with his father's plant-and-lawn maintenance company.  Jed developed a passion for horticulture.  At the University of Connecticut, he earned his degree in Ornamental Horticulture.  As Oliver's nursery Owner, Jed handles purchasing and nursery sales while also working with the design team on big installations.  An aficionado of rhododendrons and spruces, Jed dabbles in design and travels annually to the Pacific Northwest for plant scouting and purchasing.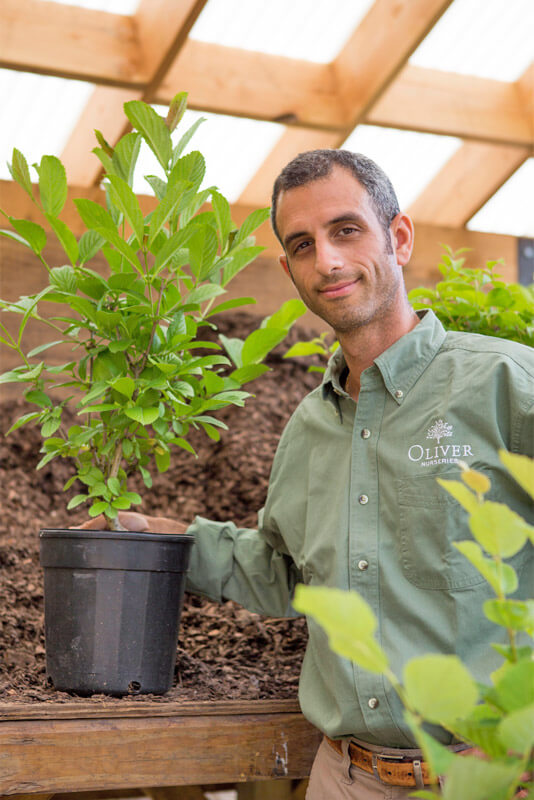 ASSISTANT NURSERY MANAGER
Vinny has worked in both retail and wholesale, developing a knack for growing and merchandising plants over the years. As well as ordering, assisting customers and displaying and maintaining plants, Vinny is responsible for the propagation and growing of uncommon trees and shrubs, making hard to find species and cultivars available to Oliver Nurseries customers. He is a graduate of the University of Connecticut with a BS in Horticulture and Business Management.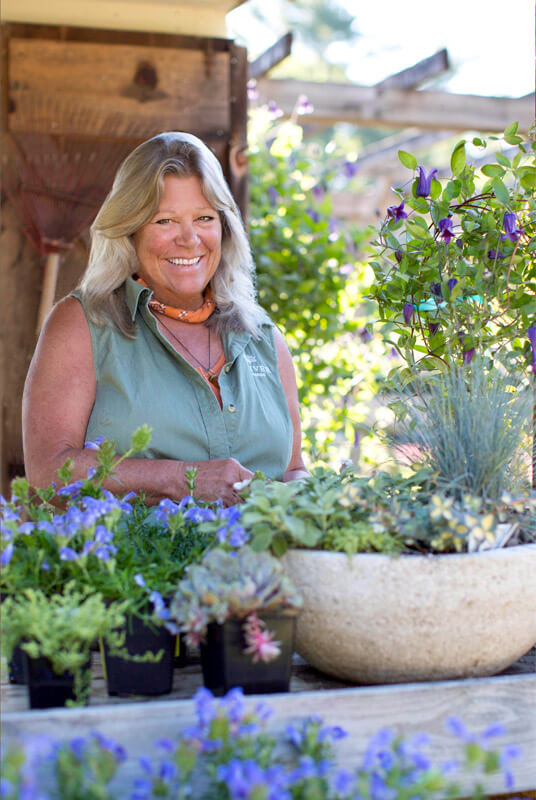 Though her first love was literature, Lori knew she was destined for a career in horticulture when she spent her days gardening and her nights reading about plants. She studied at the School of Horticulture at New York Botanical Gardens, later earning a coveted job as a propagator and teaching classes there. Also a botanical artist and illustrator, she has judged the Philadelphia Flower Show and writes for the North American Rock Garden Society. A national expert and specialist in alpine and trough gardening, Lori says, "plant enthusiasm is contagious and our customers catch it too."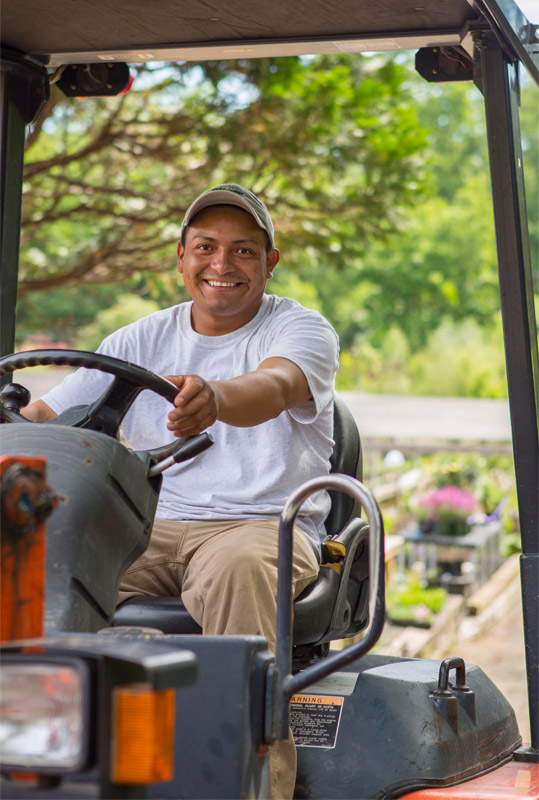 Anyone who has visited the Nursery has no doubt seen Jose on the tractor moving inventory and helping customers load their cars. An invaluable member of our staff, Jose is responsible for merchandising and keeping our Tree and Shrub inventory looking so good. If ever there is an inventory question, Jose most likely has the answer.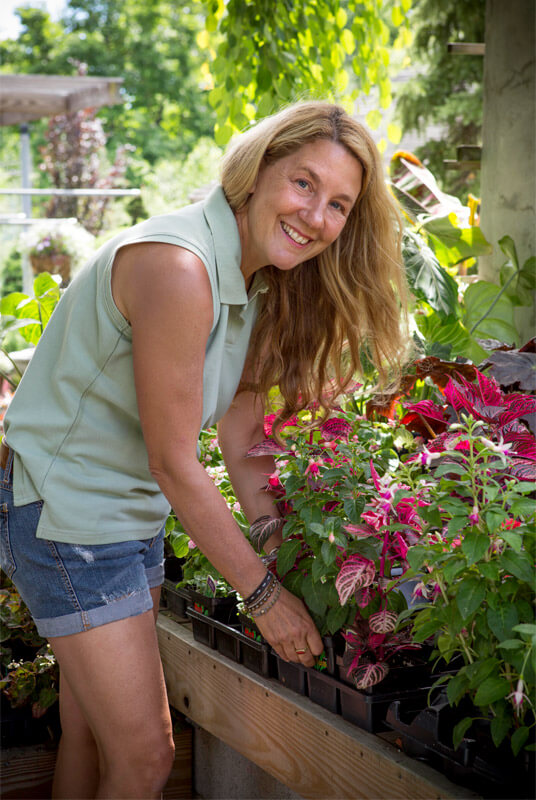 ANNUALS • GARDEN ORNAMENTS MANAGER
As a longtime gardener with a talent for design, Andrea has developed her broad knowledge of annuals over many years at Oliver's. Andrea plays a major in beautifying the grounds, designing the five annual gardens and all annual containers, playing with foliage and plant combinations that inspire customers. Her nine-foot Euphorbia Sticks on Fire won an award from the Connecticut Succulent and Cactus Society. "I love being able to paint pictures in the soil," says Andrea. "Every year it's a fresh canvas."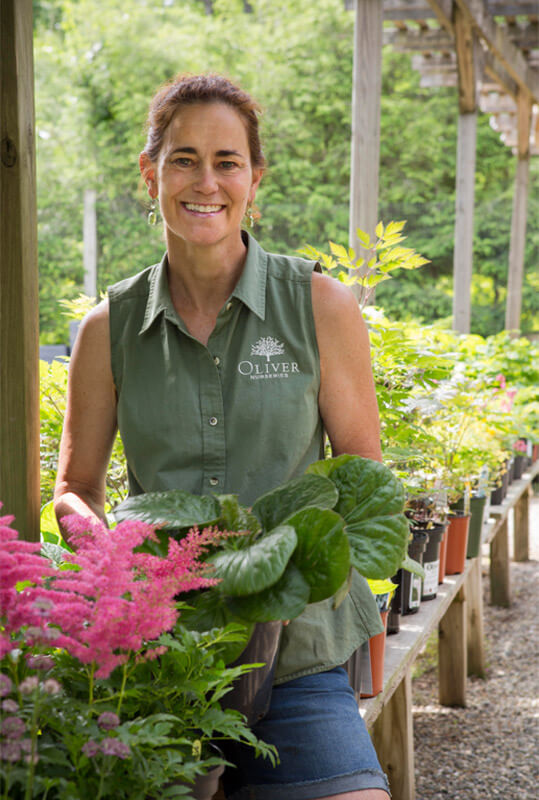 With her degree in Fine Art and graduate work in landscape architecture, Melanie brings a keen eye for color, balance and beauty to her position. "A garden is like a living painting," says Melanie, "changing all the time." She helps clients create the perfect palette, ordering all the perennials and tracking down unusual plants that appeal to collectors. Her motto is "right plant, right place," as she offers design guidance and encourages clients to bring shape and texture into the garden. Melanie is a member of the Garden Writer's Association and the Perennial Plant Association.